March Meet the Maker Challenge Week 3-4
Posted on
I thought I would merge week 3 and 4, as I felt it would be easier for you to read both weeks in one sitting. We are coming into week 3 of the challenge and I am not feeling aprehensiove about posting this week,I am a bit of a planner, so I have already jotted down then ideas for this weekes posts, but I have not created them yet. Sometimes it 's ok to be sopontaneous and not overthink things.
Day 15 of the challenge is Boomerang! I use boomerang quite often in my instagram stories, to me it's a bit of fun and it can enhance the way you share, what you are doing or making and it is more eye-catching than a straight forward post. https://www.instagram.com/p/BgWPIpWHtXN/
Day 16 of the challenge is Helper. I am a solo business owner, but I do have someone who sometimes keeps me company her name is Margot. She is a loveable black labrador, who loves going for walks, eating carrots and bananas and especially diving into the sea, if we take her to the beach. Sometimes I think I have had another baby, when it comes to all the attention she wants from me, but I love her to bits. I let you into a little secret, Margot has her own Instagram account, she has 325 followers at the moment and doesn't mind having her photo taken, lol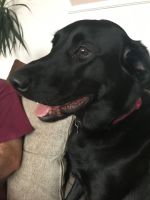 Day 17 of the challenge is customers and feedback - I still get excited every time I receive an order. Also receiving feedback and a review from my customers is so amazing, I appreciate it that they took the time to do it and It lets me know if I am doing everything right and where I can improve. I am always thinking of ways to give my customers an experience that they will remember. I am lucky to have amazing customers and I want to thank them all, for choosing my business, out of all the other businesses out there. This is a review left by a customer on my Etsy shop.

Day 18 of the challenge is inspiration.. This is a hard one for me, as it comes to me in many different ways. It could be reading a passage in a book, listening to a podcast or simply walking to the post office, to post some orders. I have been in the queue at the post office and an idea will pop into my head and I will quickly make a note of it on my phone. Walking the dog and being outside in nature gives me inspiration, I like to take in my surroundings and just walk and think about colours and sounds that I see and hear. My customers inspire me sometimes. It might be something they have said or ask for and that will set me off. I do walk around with a notebook, to capture any ideas that I have and I make sure I write it down, before I forget them.