It was worth the wait
Posted on
At the beginning of each week, I usually start thinking about what I want to write about in my blog. Usually I'll be jotting down notes and drafting sections of it, then by Wednesday it's generally coming together, then on Thursday, I'll do any needed amendments, then if I'm happy, I'll publish it.
Well last week, I must say was a struggle for me, it's like I had 'bloggers block' or writer's block, or whatever you want to call it. Nothing I did would give me any clues as to what I wanted to write about.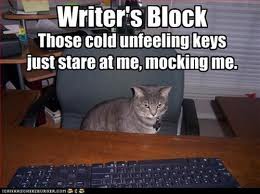 I've only been blogging for nearly a year now and initially I found it hard work to sit down write about a subject. Now it's easier, I try to blog once a week and I do enjoy it, my problem is that sometimes I 'overthink' things and I should really just relax about blogging and try not to stress out about it, if it's late, it's late, it's not as if I'm giving in homework, is it?
At the end of last week, I was staring at my laptop trying to conjure something to blog about, so I thought, leave it and come back to it later on. I went off to look at my supplies to see if I needed to order any stock and I came across some lamp work beads that I'd bought back in 2011. I bought them because I thought they were beautiful and unique and I've always admired jewellery makers who made lamp work beads, the designs are amazing. I did not have a project in mind for them, so I just put them away. I put them on the table and I played around with them and came up with a bracelet, that with simple, using bronze filigree beads, which complimented the green and gold colours, of the beads.
Here is the bracelet, just look at the detail on the beads.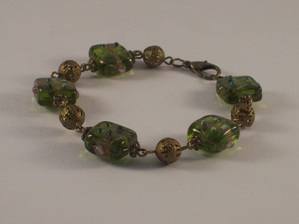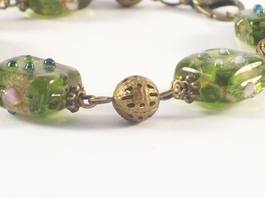 I still had enough beads, also to make a pair of earrings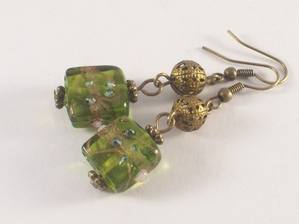 So if your struggling for something to blog about, leave it and go off and do something else, an idea will come to you, when your not expecting it. I ended up making some new jewellery, when I was not expecting to. Also if your blog is a few days late, nevermind, not everything always goes to plan, just take it's it comes, not worth stressing about .
Tweet