Summer, Summer Time
Posted on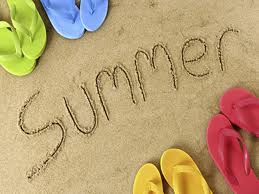 I love the sun and here in England we've been having glorious sunshine, I just don't want it to end. My summer jewellery usually includes ankle bracelets, which I love wearing with my summer outfits, for me, wearing an ankle bracelet, is just like wearing any other piece of jewellery.
Before I show you the new ones that I have made, I though I'd share with you my homemade body scrub treatment, that I like to use to get my skin in tip top condition for the summer.
When it comes to skin care products, I do try to use natural ingredients, I've been using this mixture for several years now and it always leaves my skin feeling amazing. My body scrub is simply made from extra virgin olive oil and sugar! I pour half a cup of sugar in a small bowl and add one table spoon of extra virgin olive oil, then mix it, then add another till the consistency is not too runny and not too thick.
I apply the scrub after a shower or bath, rubbing it gently into the skin, then rinsing it off and I have to say, it will leave your skin feeling soft and smooth
Ok, after a long introduction, lol, here is a collage of the new ankle bracelets that I've added to my website, this year, one of which is not shown here, as it was sold within 30 minutes of me listing it on the site, after posting a picture of it on my Twitter account, yay!
Summer Ankle Bracelets 2013
To get a closer look at them and all my other handmade jewellery, visit my website.
Enjoy your summer.
x
Tweet