Bird'sNest Necklace
Posted on
Thought I'd do a short and sweet blog today and show you all the bird's nest necklace that I have made. I love wire work jewellery and I'd seen several of these necklaces around. I had some left over hot pink coloured 8 mm glass pearl beads, in my spare bead stash, then I picked out some 0.6mm silver plated wire. Threaded on the beads, then twisted the wire around the beads in a circular motion, I continued to do this, until I was happy with the fullness of the wrapping.
The end of the wire was tucked into the back, 2 jump rings were attached to the top of the wrapped wire, then a silver plated 18 inch chain was added and there you have it, my first bird's nest necklace.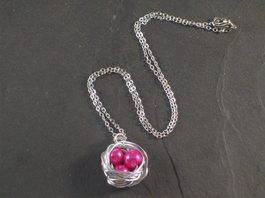 Here is a close up of the wrapped beads.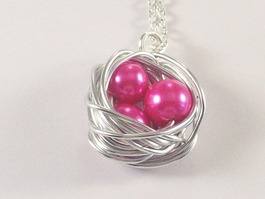 Now I'm not sure whether to pop it into one of my shops, or keep it for myself, what do you think?
Tweet