2017 Wedding Colour Trends
Posted on
It is wedding season is, but when you think about it, it's always wedding season, 365 days of the year, somewhere around the world, someone is getting married.
Apart from choosing the wedding date, couples need to think about the type of wedding that they want and once they know, everything will become easier and the wedding planning hopefully become more fun and less like hard work.
One way to do this is to pick a wedding theme, wedding themes can range from a Beauty and the Beast to Boho style wedding.
But if a couple have chosen not to have a wedding theme, then could pick a colour theme. I think if you don't have one or the other in place, you might be in danger of having a wedding that looks like it's been thrown together with of ideas, that makes no sense and have no connection to each other.
NEUTRALS AND METALLICS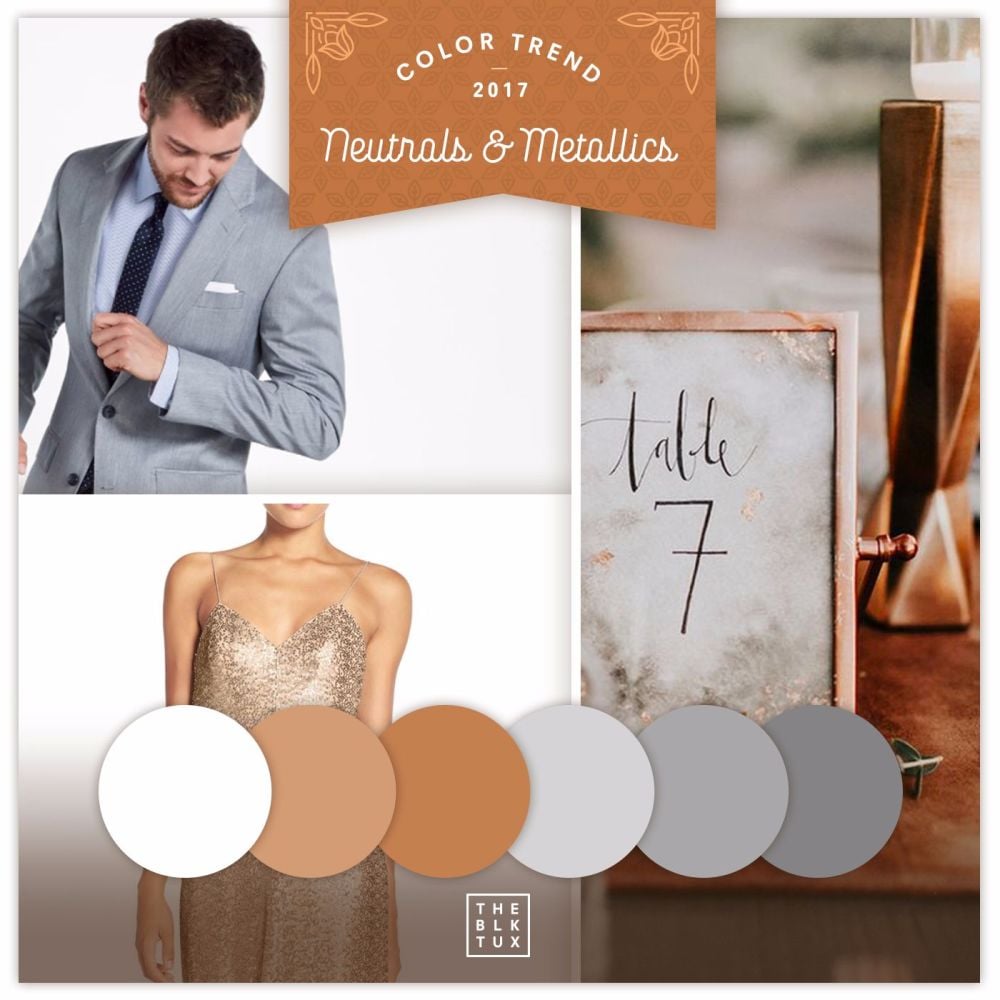 One of the wedding trends that is always noted by the wedding industry year after year, is the wedding colours that couples seem to gravitate to and neutrals seem to show up year after year. It is a classic palette that never seems to go out of date. Also it's perfect if you are having a beach or rustic wedding, the colours can range from soft greys and creams, to a dusky pink.
The colours flow and merge seamlessly, giving a dreamy effect and this is why couples know it will give their wedding a sophisticated and elegant atmosphere.
Having a neutral palette allows you to add something extra, something that will pop and metallics that are either silver or gold, will do it. So you can combine the muted and understated colours of the neutral shades, then you have the glam and rich glow of metallic pieces.
A wedding dresses come in all colours and this dress, is a soft toned nude, simple and whimsical. When it comes to your wedding cake, why choose a plane nude cake, when you can have a ombre cake, each layer just looks amazing.
Instead of having a simple flower buttonhole in your wedding suit or tux, why not be creative and go for eye-catching buttonhole in a metallic rose gold effect.
Compliment your wedding dress, with a pair of glam sparkling shoes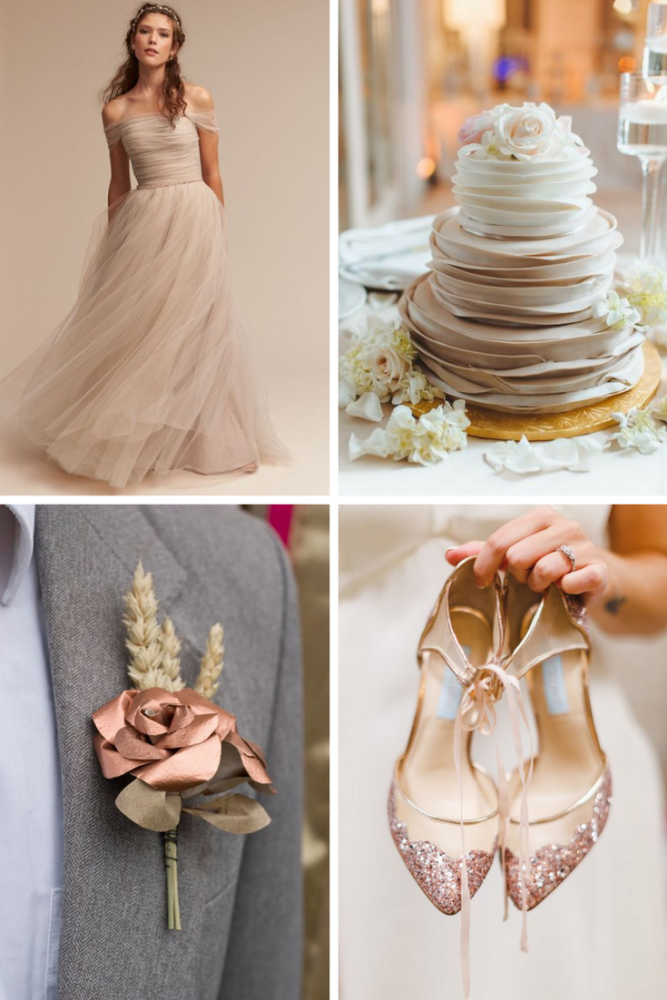 IMAGE CREDITS
Metallic Buttonhole - Rachel Emma Studio - Etsy
Shoes - Betsy Johnson
Dress - BHLDN
Cake - Style Me Pretty
GO GREEN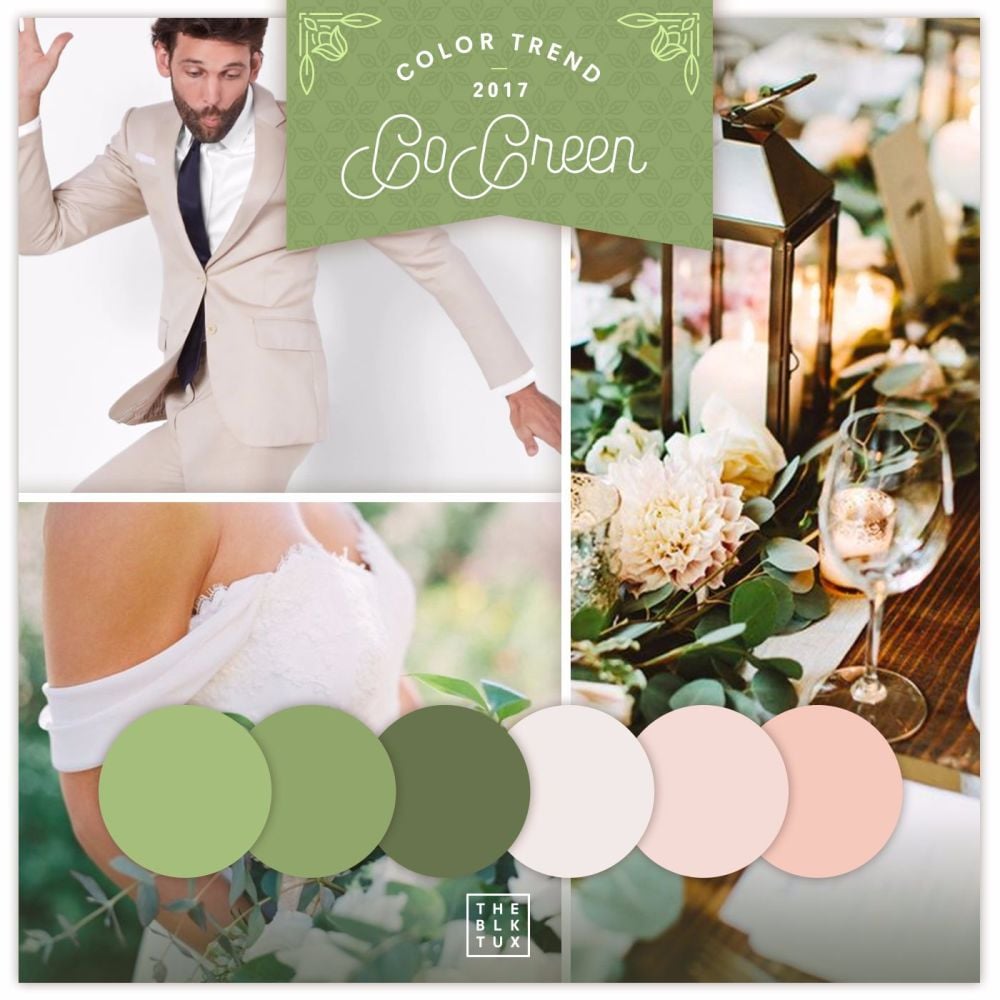 Pantone chose Greenery as the colour of 2017 and when I think of the colour green, I think of nature and being outdoors, so this colour scheme is ideal if you are having an outdoor wedding or if you're having an indoor wedding and want to bring the outdoors inside!
There is so many ways you can add the colour green into a wedding, I love succulents and it would never cross my mind to use succulents, which are plants that store water in their leaves, as place-name holders. They can also then become wedding favors, which I'm sure the wedding guests would look forward to taking home with them.
There are other ways you can include natural greenery into your wedding, such as handwritten place names using a gold pen, a fun task for all you DIY brides. Using garlands of green leaves, entwined with flower blooms and draping them and using them as table runners and backdrops. Or you can have clusters of greenery, as wedding chair decorations.
Be inspired by the lush greenery and have a greenery buttonhole, for the gents, or flower garlands for the flower girls, the list is endless.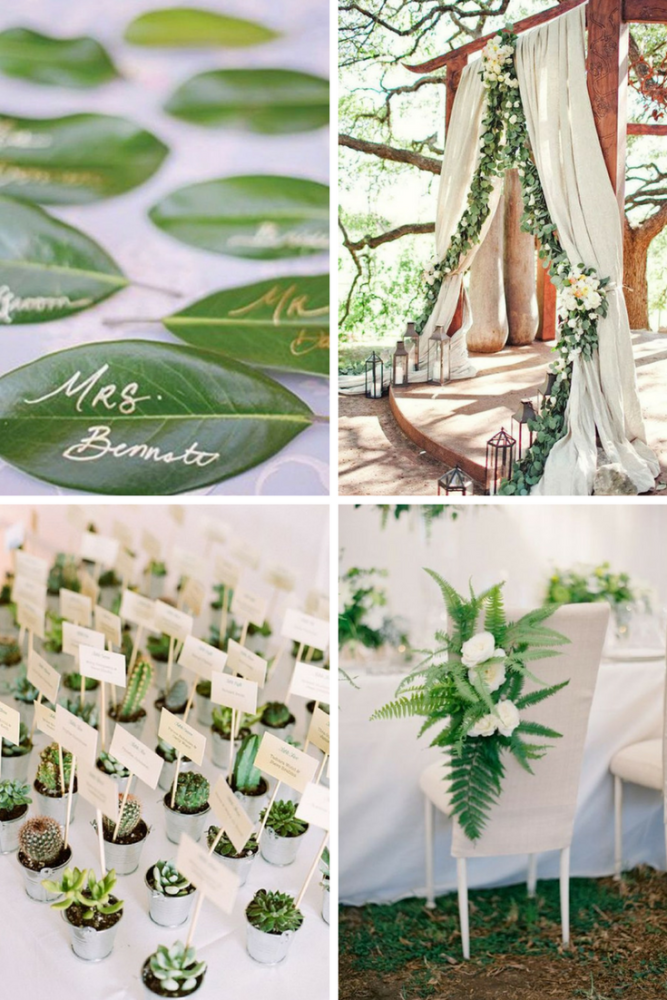 IMAGE CREDITS
Succulents Place Holders - Boho Weddings and Life
Leaf Place Names - Perfect Wedding
Outdoor Greenery Decor - BrIt Morin
Chair - The Wedding of my Dreams
BLUE AND BLUSH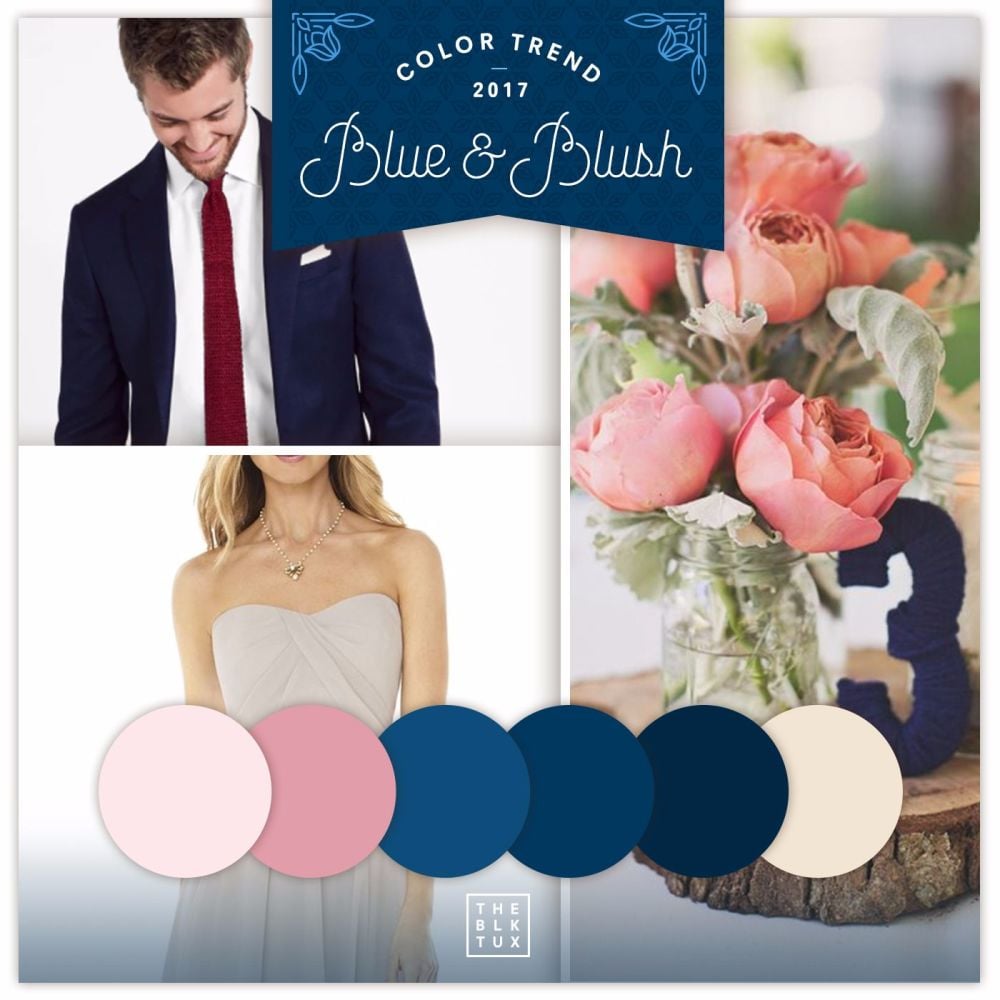 Blue and Blush are colours on the colour wheel, that are opposite to each other, even so, they work well together. The colour blue can sometimes be seen as very corporate being very corporate, but when you introduce a pretty blush colour, it can add a feminine and romantic vibe, totally softening the blue.
A blue and blush wedding colour theme, is perfect if you have chosen a nautical themed wedding. Grooms and other members of the wedding party, can choose to have navy suits or tuxes, with maybe a pink flower buttonhole or a silk pink tie. If you are in the US and need a suit or tux for a wedding, check The Black Tux out for your tuxedo and suit rentals
Then you can blue and blush colours for your wedding stationery, wedding decorations or flowers in your wedding venue.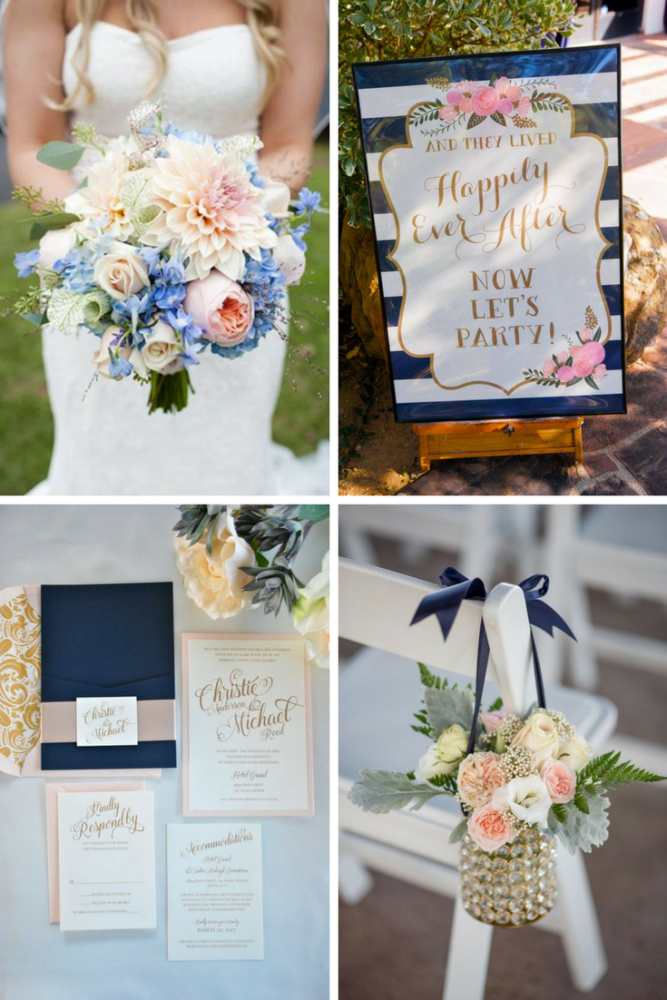 IMAGE CREDITS
Flowers - BRIDES
Stationery - Out the Box Creative
Wedding Sign - Knotsvilla Wedding Blog
Wedding Chair - Hi Miss Puff
Buttonholes or Boutonniere, which is the french word for buttonholes is the floral decoration worn by men, mainly to weddings, see some stylish groom buttonhole inspiration.
Whatever colours you choose to have for your wedding, have fun with it and be adventurous, you will find a way to merge your colours into your wedding, you just have to use your imagination.
Want to save 15% off your first order, (one time use) then sign up to my VIP list. You will receive news about new products and promotions, but also exclusive offers and secret sales, only sent to my VIP club members.
Click the link for your code! http://eepurl.com/C5dUT
Michelle x