March Meet The Maker Challenge 2018
Posted on
#MarchMeetTheMakerChallenge 2018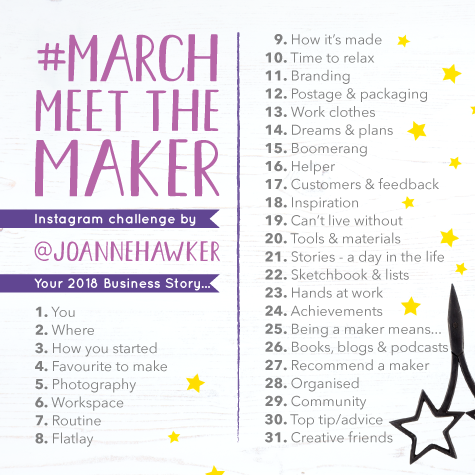 This year in March, I took part in Joanne Hawkers #marchmeetthemaker challenge and it was so much fun and I really enjoyed getting out of my comfort zone, it was a whole new experience for me and I have to say it was one of the best things I have ever done, I don't mean to me melodramatic, but it's true.
If you don't know what the challenge is, it's a challenge created by an amazing illustrator and designer/maker called Joanne Hawker. It took place on Instagram and it is aimed ar makers, who get to share all aspects of the business and personal life and you get a chance to interact and meet other business owners who are also doing the challenge.
Joanne first started the challenge in 2016 after being in a creative rut while using Instagram and wanted to do something different, that involved other creative businesses. It involves being consistent in showing different aspects of your life for 31 days. It was a big success in 2016 with over 25,000 posts, using the hashtag #marchmeetthemaker, by 2017 this had grown to 85,000 posts being added on top.
Erly on this year, some of the folks in a couple of the Facebook groups that I am in, started talking about the challenge, if I am honest, I did not know what it was, so headed over to the March meet the maker website and had a good look around and by the time I finished reading about the challenge, I made my mind up that I was going to do it.
But then for a split second I thought I must be mad in taking part, as I was not very good at being consistent in certain matters and I had visions of me giving up at the end of week 1.
But I remembered one of my goals for 2018 was to get out of my comfort zone and put myself out there and most important me consistent. Plus I wanted to prove to myself that I could do it, so I printed off the planner, which listed all the daily prompts.
Once I read through the prompts, I started jotting down on the planner ideas for each prompt, then I realised I would be sharing more than I usually share about my business, which excited me and scared me at the same time.
So for the next 4 weeks, I will be sharing with you what I got up to weekly and if you are wondering did I complete the challenge, then you will have stay tuned for the next 4 weeks to see if I kept my word.
WEEK 1
Day 1 - You
I am taking part in the #meetthemakerchallenge this month and today is Day 1. I have not done it before, I hope to be very consistent in my posts, so I am going to give it a go. My name is Michelle and I am the owner, creator and designer at Michelle's Handcrafted Jewellery.
I am married and have twin teenage boys, a loveable dog, 2 cats and a chicken. I live in Essex, on the coast, literally 2 minutes from the sea, but I am originally from London. I design and create jewellery and accessories for weddings, christenings and other special occasions. I am excited about trying this and sharing my daily posts with you all. Come and say hello, I won't bite.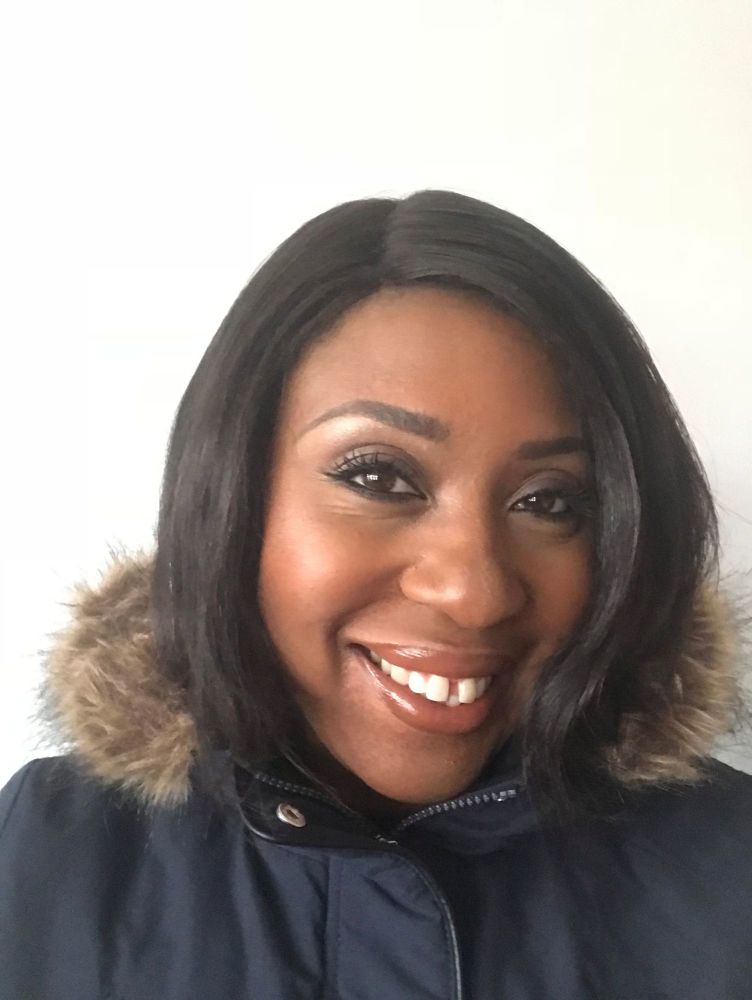 Day 2 - Where?
I live on the east coast of England in a lovely coastal town called Clacton on Sea. I use to live in London, but moved here nearly decade ago. This a picture of the beach, which is just 2 mins from my front door. The beaches down here are fantastic, they get packed out every summer with holiday makers and we try to visit them as much as we can. I love living here and the people are nice and friendly.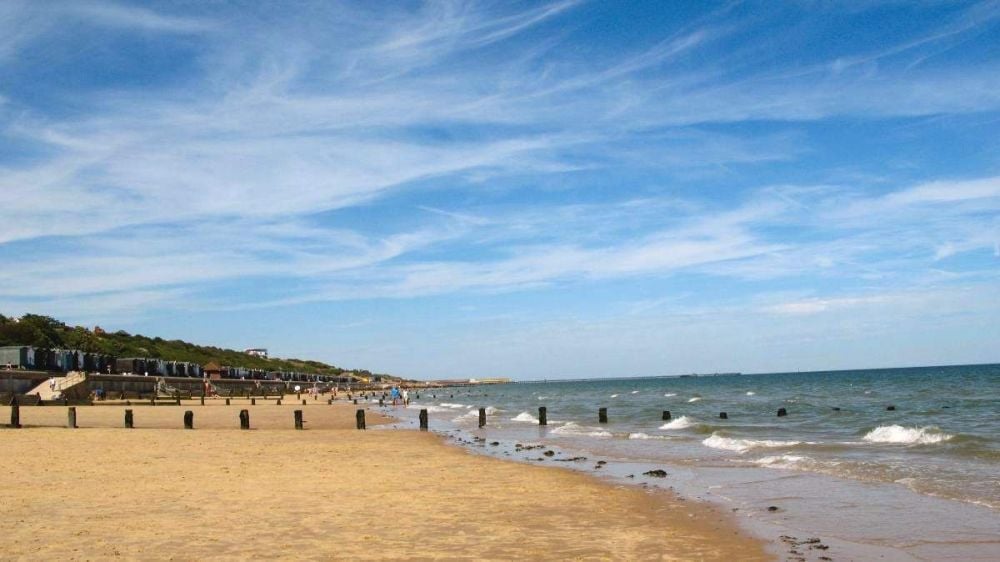 (Image Credit - Essex Walks)
Day 3 - How it all started?
I was made redundant after working 20 years in a law firm in London and my then boyfriend and I decided to move away and we chose to start a new life in Clacton. I had always liked wearing jewellery and sparkly pretty accessories and I wanted to find out if I could make my own. So I bought my first jewellery making kit, which consisted of 3 pliers and a large box of beads and components and I taught myself how to make jewellery.
Once I started I could not stop, I even use to stay up till 2am in the morning, just to make jewellery, I was addicted, lol. In the picture is my first set of pliers, they are pink with glitter handles and I still use them today. Also that is one of the first bracelets I made out a stash of beads that I ordered. If you are a jewellery designer and love buying beads as much as I do, you will understand that buying beads can be addictive and I have learnt to stop buying them all the time and restrain myself from browsing online bead shops.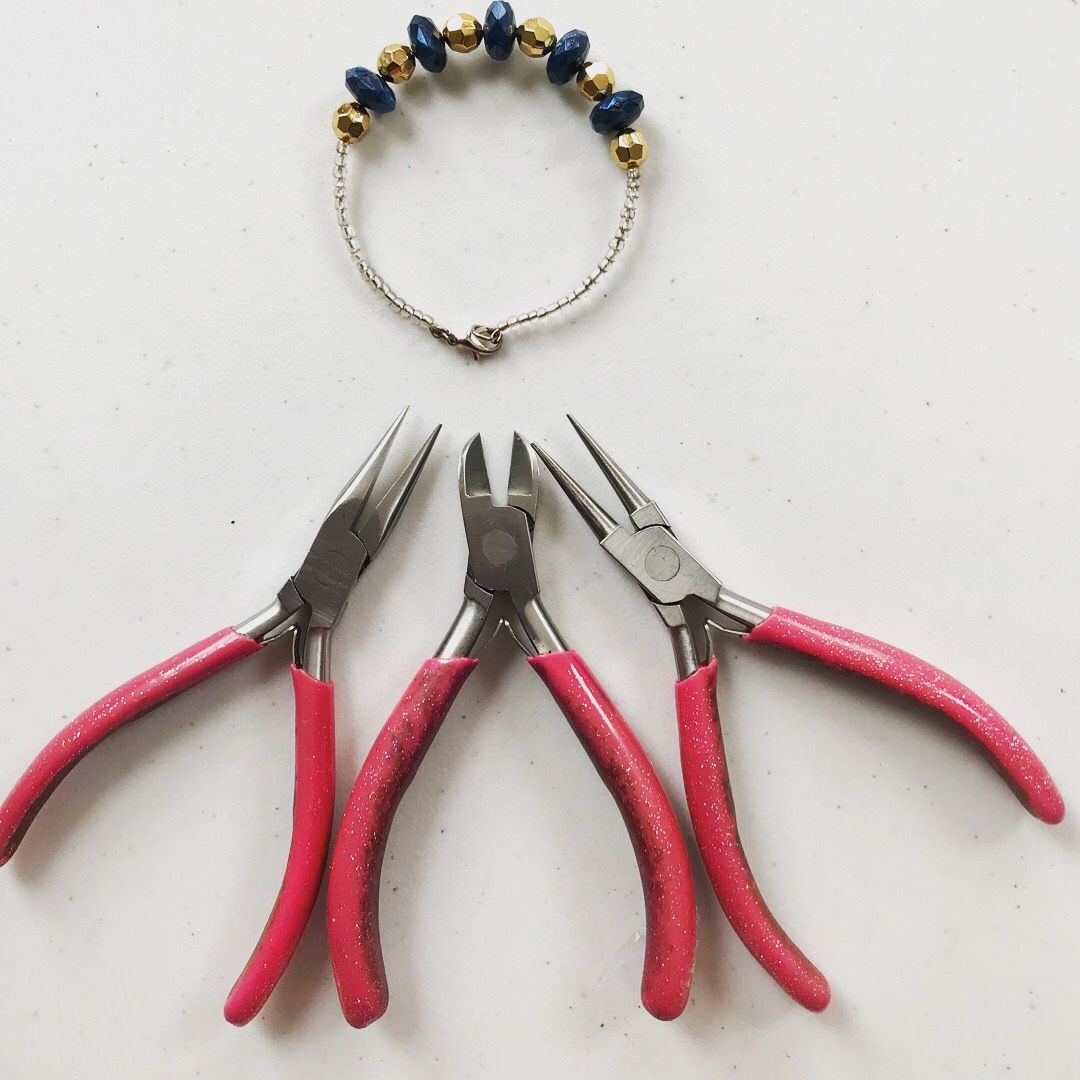 Day 4 -

Favourite thing to make?
I make wedding and christening jewellery and some of the christening bracelets I make for some babies, are only 4 inches long. They are so small and cute, I love making them. As you can see from the picture, they are so dainty.
Another reason I love making them, is that I feel proud to know that my bracelets have been chosen to celebrate a very important day in that babies life, which makes it that much more special.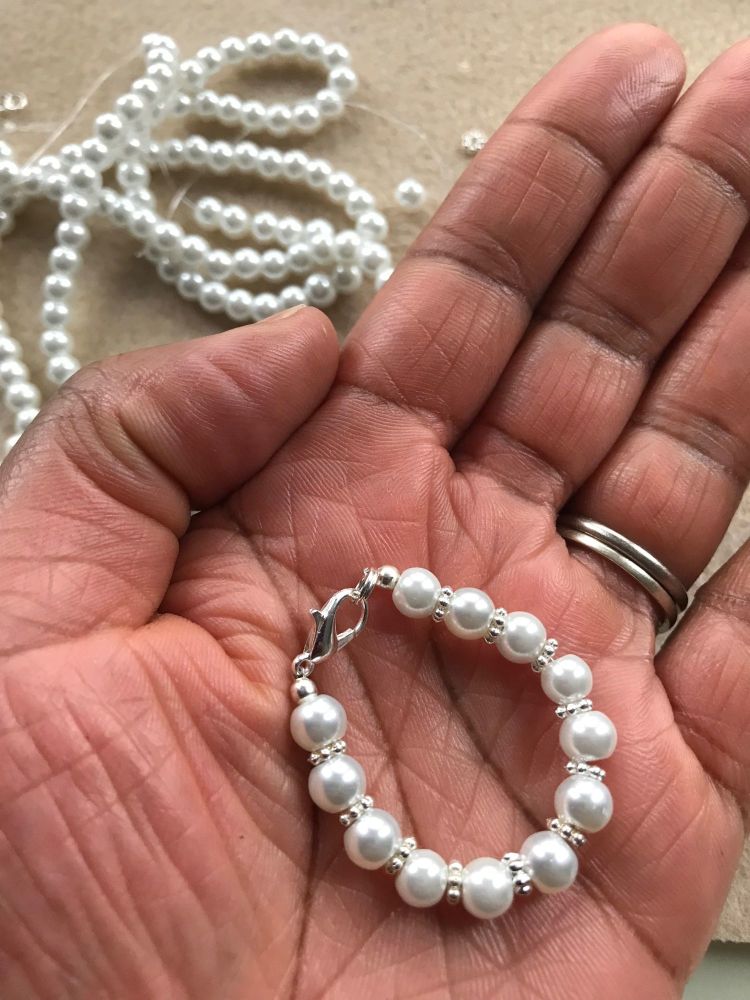 Day 5 - is Photography.
When I first started out making jewellery I realised how important photos were when it came to showcasing my jewellery. I struggled to take a decent picture, I did not know what I was doing, but I was not going to let it beat me. So I read lots of blog articles and I just tried and tried to learn as much as I could about photography and I must of taken thousands of photos, over the years.
The more pictures I took, the more I loved taking the pictures and the better I became and now it in somthing I look forward to doing, when I need to take new photographs of my jewellery. In the picture is my wonderful Nikon L340 camera it takes fantastic pictures and using it has made me want to learn photography. So that is one of my goals, hopefully in the next couple of years, watch this space.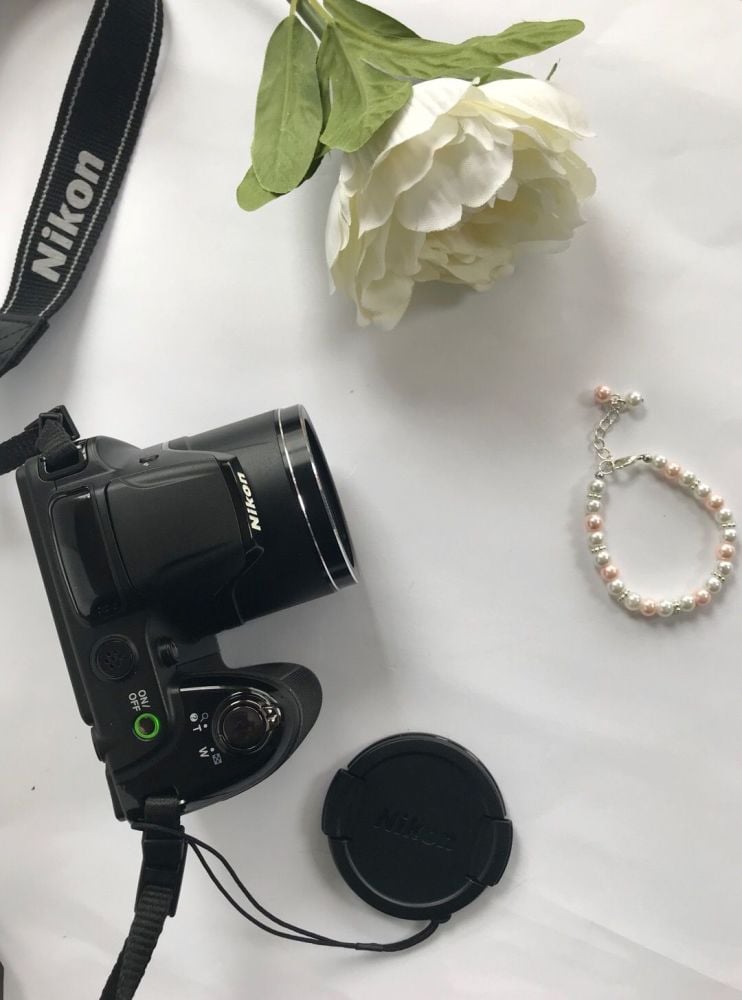 Day 6 -Workspace.
I am very lucky that I am able to run my business from my home. My workspace is in one of the bedrooms at the back of the house, overlooking our garden. Have to confess, I don't always have a tidy room, if I'm busy there are beads everywhere and no clear tables!
I love being able to have this room, it's nice and bright, we spent Easter weekend last year painting it white, so now it's A very bright room, great for taking pictures in natural light. I can also enjoy the view outside.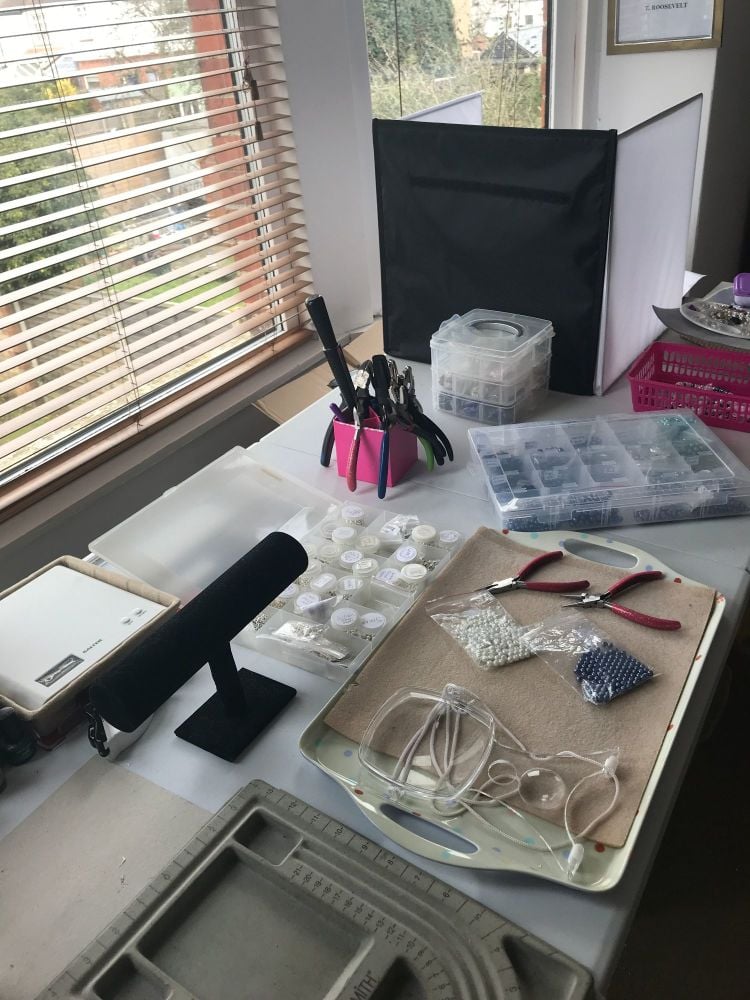 Day 7 - Routine



I have to confess I love a good routine. Routines give me structure and I know what I need to do and when I need to do iy otherwise, I would just end up running around like a headless chicken.
I start my workdays at 5 am every morning and I have been doing this for nearly 3 years. It all started when I read a book called The Miracle Morning, by Hal Elrod. This book was groundbreaking for me, it taught me about personal development and habits that have helped me have a better day.
My routine consists of 20-30 mins of exercise, this could be either strength training, cardio or kettlebells. I also meditate and journal in one of my many notebooks, I have a slight addiction for stationery. I also read and listen to affirmations while I am getting ready.
I take our dog Margot, who is an energetic black Labrador, for a 25 min brisk walk, then I do any needed household chores. I try to be at my desk by 9 am every morning, I normally plan my week on a Sunday or Monday morning and I use my bullet journal and Google Calendar to plot my week out.
My work days mainly consist of making orders, creating new designs, photographing them and listing them. I also work on emails, newsletters, blog posts, looking after my website and Etsy shop, e.t.c. I won't list everything that I do, we would be here all day, if I told you what was on my 'To Do' list.
Lunch is 30 mins at 1 pm. Then I work till 4.30, then it's the post office run, I like going there at that time of the day because it's usually empty and I can have a chat with the staff, who all know me, which is nice. If I did not have a routine, I would fritter my day away.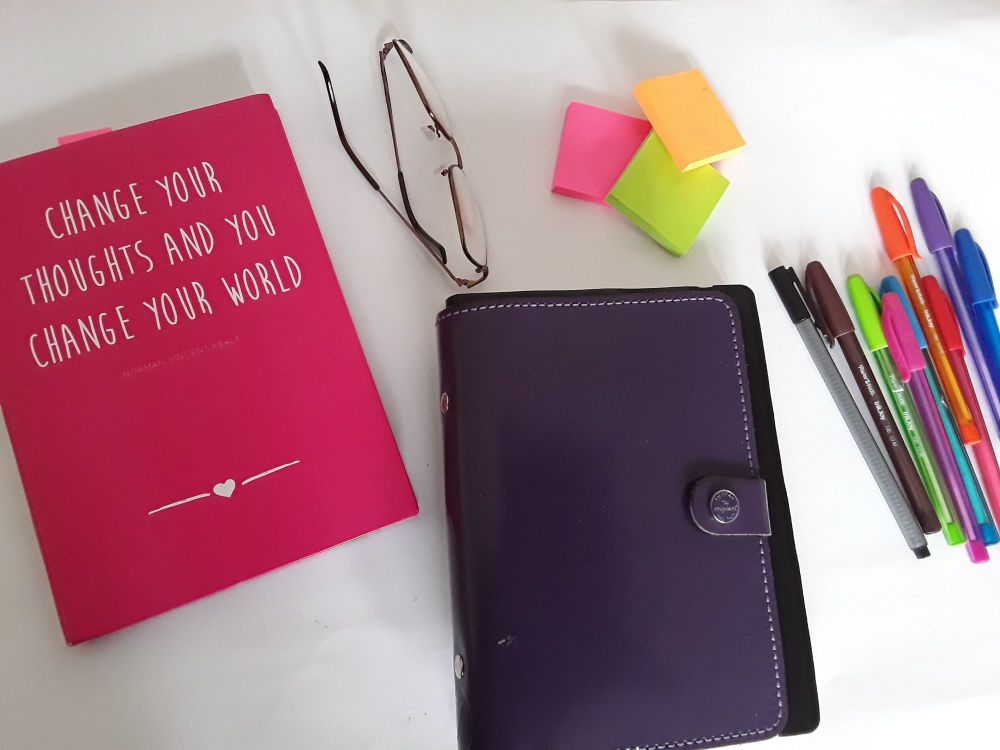 That is the end of week 1 and so far it has been brilliant. I will be sharing the rest of the challenge, over the next coming weeks.
Have you ever done any of the other Instagram challenges, would you recommend any of them, I think it would be fun to do another one, leave me a message in the comments of your favourite ones.
You can stay in touch by signing up to my email list and to say thank you, there will be 15% discount code waiting for you after you have signed up. Click the link here http://bit.ly/michelleshandcraftedjewellery
If you would like to see my jewellery and accessories, click the link here, to be taken to my shop www.michelleshandcraftedjewellery.com
Follow me on social media!
Twitter - http://www.twitter.com/michelleshandc
FaceBook - http://www.facebook.com/michelleshandcraftedjewellery
Instagram - https://www.instagram.com/michelleshandcraftedjewellery
Pinterest - https://uk.pinterest.com/michelleshand
Bye for now. x
Michelle