Bridal Hair Combs
Posted on
Happy New Year!
A belated Happy New Year to you all, we are over half way through the month already, the years have just been flying by, far to quickly for my liking. It's a new year, which means lots of new ideas for the coming months. This year, I want to develop and expand the ranges of items in bridal jewellery, to include bridesmaid jewellery sets in exciting colours and designs, that reflect the changing tastes of brides, who want to express their individual colour choices and style.
I'll just share with you all, a couple of the new bridal combs that I have already made. I've said in the past, how much I love pearls and crystals, both of which are my favorite beads to work with, when making my jewellery pieces.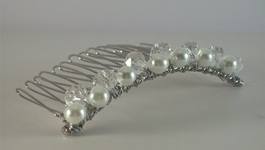 1. This comb has white pearls and round crystal beads.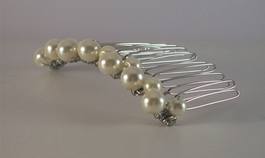 2. Made with Ivory pearl beads, in 2 sizes.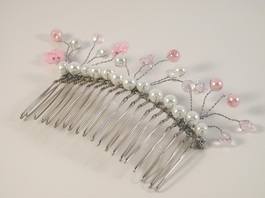 3. This is a pink pearls and crystal beads spray bridal comb.
Learning to make these bridal combs has been an enjoyable experience, I will be making some more combs, to add the collection. I've already started to make a tiara, I will be showing it on my blog, when it is completed.
The combs and tiaras will be added to my shop, in the spring.
If your getting married and still trying to decide what style or design of bridal jewellery to choose from, visit the bridal section of my shop, all my jewellery is handmade and can be personalised, in your chosen colours or in a particular design.
More new jewellery pieces will be add to my shop very soon.
Tweet