Aluminium Wirework Jewellery
Posted on
Last year I spoke about wanting to work more with wire in my jewellery making and expand into wire work jewellery. Well, I have being doing so, I've been experimenting over the past couple of week, when I've got a spare couple of hours and just sitting at my desk, with a my tools and a roll of inexpensive wire. To make the most basic, to the most intricate designs, it only requires confidence in the tools you use and your imagination.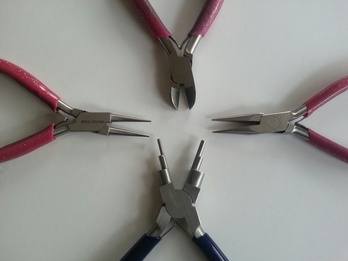 At first I started with a piece of shiny brown aluminium craft wire, that caught my eye in a local craft shop. Aluminium craft wire is a soft a malleable wire, that can easily bent with your fingers and is available in many colours. It also can be rigid enough to hold it's shape.
At first I made into an oval shape, then I added some tiny turquoise blue seed beads, that I found in my bead stash, which I have wanted to use for a while time, because they are soo pretty. I strung them onto a piece of 0.4 mm silver wire and then started wrapping around the oval frame.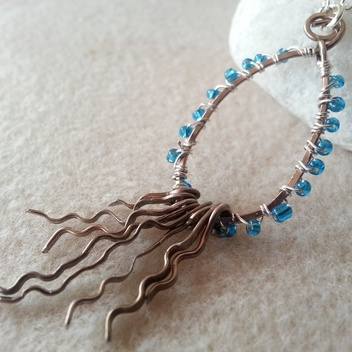 This is what I ended up with, yes I know it looks strange, it reminds me of something you'd find in the ocean, some sort of sea creäture. The fringe bits at the bottom, were made from uneven strips of wire, that I just bent and curved around a round nose pliers.
After I made this, I thought this would make an interesting pendant, but I've not got around to making it into a necklace, I'm not even sure I will make it into one, it's one of the most unusual pieces I've ever made. If there is anyone out there that can suggest a suitable stringing material, I would love to hear from them.
After making this pendant, I wanted to make a pair of earrings, I did not have a design in my head, I just bent the wire around into a circle, then a spiral shape and grabbed some blue Czech glass beads and added these to create some movement and these are the earrings I created.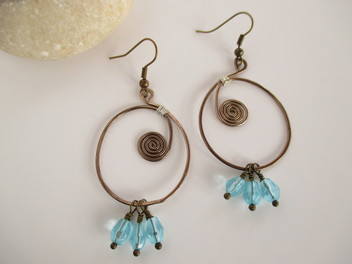 Again, they are an unusual design, but that's what I love about making jewellery, things don't always turn out how you expect them to turn out, there are no hard and fast rules about jewellery making, just the freedom of creating whatever your tools, hands and imagination lets you create.
Most of my handmade jewellery is one-off pieces, if you would like to see my work, then have a browse through my website.
Bye for now.
x
Follow me on -
Twitter - www.twitter.com/michellehandc
Facebook - www.facebook.com/michelleshandcraftedjewellery
Instagram - www.instagram.com/michelleshandcraftedjewellery
Pinterest - www. pinterest.com/michelleshand