Bead Woven Earrings
Posted on
I mentioned previously that I was going try my hand at making a pair of bead woven earrings, well instead of making one pair, I made two pairs of earrings.The first pair was made with 6mm gold glass pearl beads and also green and clear seed beeds. I used a nylon thread to sew the beads into this bead wreath pattern.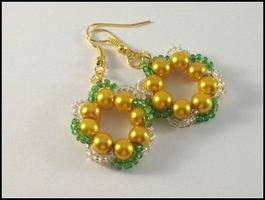 I made the second pair of earrings below, using what is called the right angle weave beading technique, as the beads lie at a right angle to each other. I used 4mm Swarovski Red Siam bicone beads and clear seed beads, again I used a nylon thread. Once I made one earring, the next one was fairly easy to make.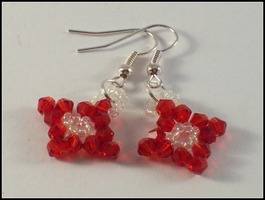 Both of these earrings were not as hard to make as I thought they would be. I will be attemping to try other designs, as I've really enjoyed making these and bead woven jewellery, is something I'd like to continue making in the future.